Gutters
Make sure your gutter performs year around. Schedule with us and save 10%
Roof Draining
We cannot stress enough on how important gutters are to your roofing system. Without gutters, you are not only putting your roof at risk, but your house as well. This could lead to leaks that could potentially damage your belongings. This is especially important in North Shore where weather can be extreme from time to time. Here at Bradley Marshall Roofing Co., we offer a variety of gutters that we proudly craft each by hand, the old-fashioned way.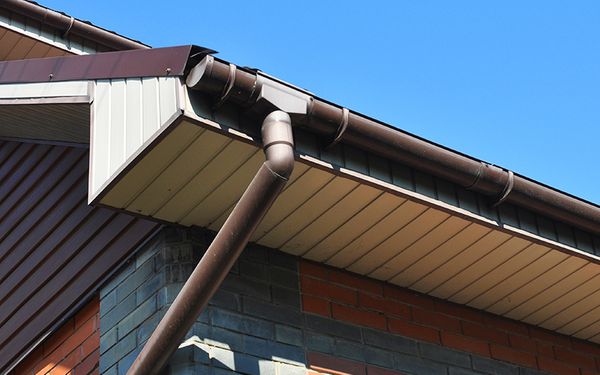 Our Gutters Are Available In:
.032 Ga. Aluminum
24 Ga. Galvanized Steel
Custom 16 oz. or 20 oz. Copper
Inlaid
.032 Ga. Aluminum
.032 gauge aluminum is a thicker, heavier aluminum where you'll get amazing protection from the elements and a much longer lifespan than your average gutter system. In most cases, aluminum gutters will often outlast your roof.
Benefits of .032 Ga. Aluminum
Look newer longer
Resistant to rust
Minimal maintenance
24 Ga. Galvanized Steel
Our 24 gauge galvanized steel gutters can be compared to our aluminum gutters. Along with our aluminum gutters, steel gutters are a popular choice especially because of how long they last.
Benefits of 24 Ga. Galvanized Steel
Extremely durable
Doesn't crack during extreme temperature changes
Can be installed with any shingles
Custom 16 oz. or 20 oz. Copper
Our custom copper gutters are alluring and will add elegance and curb appeal to your home. Obviously, copper is a higher quality metal compared to aluminum and steel. Copper gutters are a great choice for aesthetics and also function!
Benefits of Copper Gutters
Elegant
Extremely durable
Relatively low maintenance
Keep in mind copper naturally oxidizes and it will take around 15-20 years for it to turn green!
Inlaid Gutters
Inlaid gutters have a lot of names, but the most common is built-in gutters. Inlaid gutters are a concealed roof drainage system. A majority of our inlaid gutters are lined with formed metal; usually steel and iron.
Benefits of Inlaid Gutters
Since they're not visible, they don't alter any historic character of a building
Don't detract from other decorative detail
Durable
Contact Us to Schedule a Consultation!
With an eye towards customer service and 85 years of combined experience, we are proud to be your Top Rated Local® roofing contractor on the North Shore. Contact us for a free consultation for installing or repairing your gutters!
Schedule A Free Consultation