Horizontal Roofs
Although it is called "flat roofing," it is not actually flat. In fact, we lay out the roofing to where it has a very mellow slope — between ¼ to ½ inch per foot — so that it drains water effectively. Such a low slope holds water and snow significantly longer than more common steeply-pitched roofs. Because of that, flat roofs need a different material to stay watertight, especially during those North Shore snowstorms! Standard sloped roofs usually have shingles that overlap them like fish scales, while a flat roof is designed as a continuous surface that can withstand water for a certain amount of time.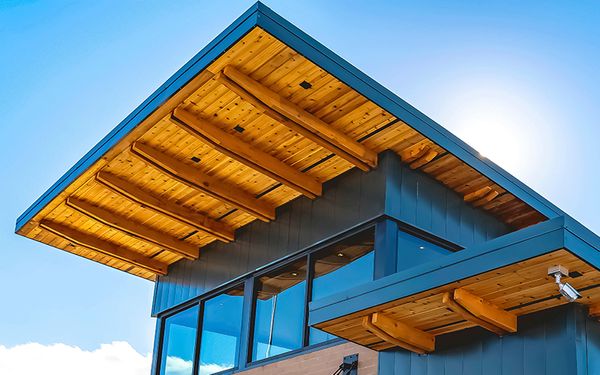 Benefits of Asphalt Roofing Include:
If you have a flat roof, we can help! With over 85 years of roofing experience, Bradley Marshall Roofing Co. has what it takes to repair or replace your flat roof.
Systems we can help with include:
EPDM rubber
Modified bitumen roofing
Single ply
Built-up roof systems
Flat Roofs
Single-Ply (EPDM Rubber)
There are several types of single-ply roofing materials available, but the most common for residential roofing is EPDM roofing. EPDM stands for ethylene propylene diene monomer. This is just fancy talk for a rubber that is made to provide excellent electrical insulation and is one of the best water-resistant rubbers available. The strong weather resistance that this rubber provides makes it ideal for flat roofing in the North Shore area!
Benefits of Single-Ply roofing include:
Maintenance is simple and inexpensive
Roof deck doesn't need reinforcement because EPDM roofing is lightweight
Leaks are extremely rare
Modified Bitumen Roofing
Modified bitumen roofing (MBR) is a flexible, asphalt-based material with a mineral coating. You could compare this type of roofing to our asphalt roofing. MBR is simple to install and is known to be low-maintenance and is very durable.
Benefits of MBR Roofing Include:
MBR can be recycled
Simple to install
Factory-applied mineral surfacing assures persistent installation
Built-Up Roof Systems
Back in the day, built-up roofing (BUR), was the most frequent system of flat roofing before single-ply and MBR were developed. BUR roofing inheres many layers: a bottom layer of insulation board, multiple layers of tar or asphalt with layers of roofing felt, and then a top layer of gravel on top. This recipe results in a thick, seamless roof that is highly durable.
Benefits of BUR Roofing Include:
Incredible protection from the elements
Low-maintenance
The gravel makes it highly resistant to foot traffic
Contact Us to Schedule a Consultation!
With an eye towards customer service and an undeniable level of expertise, we are proud to be your Top Rated Local® roofing contractor on the North Shore. Contact us for a free consultation on repairing your flat roof!
Schedule A Free Consultation